The bone broth trend is a wellness fad to some, on par with extensive juicing and turmeric lattes. If you think about it though, most of us when growing up were served a variation on "grandmas chicken soup" when feeling unwell.
Whilst I got over the habit of a daily green juice and never got into turmeric lattes, a cup of homemade bone broth is my favorite way of starting the day or snacking in-between meals.
I filed this post in the food category but I toyed with the idea of making this part of the beauty section. Ever since I became an avid consumer of this mineral rich potion, I have noticed significant improvement in the elasticity and lustre of my skin and visibly diminished cellulite.
*I am by no means a nutritionist so I am writing this post solely based on what I have observed works for me. Naturally genetics as well as other beauty choices we holistically contribute to the overall end result but a lot has been written on the topic of bone broth so I invite you to research this topic further.
If making your own broth is too much hassle I recommend The Clean Living Company in Dubai. I haven't found anywhere to purchase broth in Sweden, which I found surprising. Swedes are very quick on snapping up global trends and very much into their wellness & self care. I had to resort to making my own as soon as I landed but I didn't mind carrying over my favorite weekend chore into my new life.  There is something very soothing a pot on the stove that manages itself whilst you pootle around the house listening to podcasts / bingeing out on a Netflix show or any other relaxing activity of your choosing.
*The only other place in Dubai that serves bone broth (and perhaps who started the trend) is Hapi in Al Serkal. Personally I find their broth a tad too salty but I know that it's very popular with many and can be consumed on the spot whilst Clean Living Company is a home delivery service. 
Right – you'll need a large pot and a strainer – both things I had to purchase as soon as I settled into my tiny rental here in Stockholm, but on par with a coffee machine this was really important to me. Routines are grounding and in beauty and self improvement consistency is key.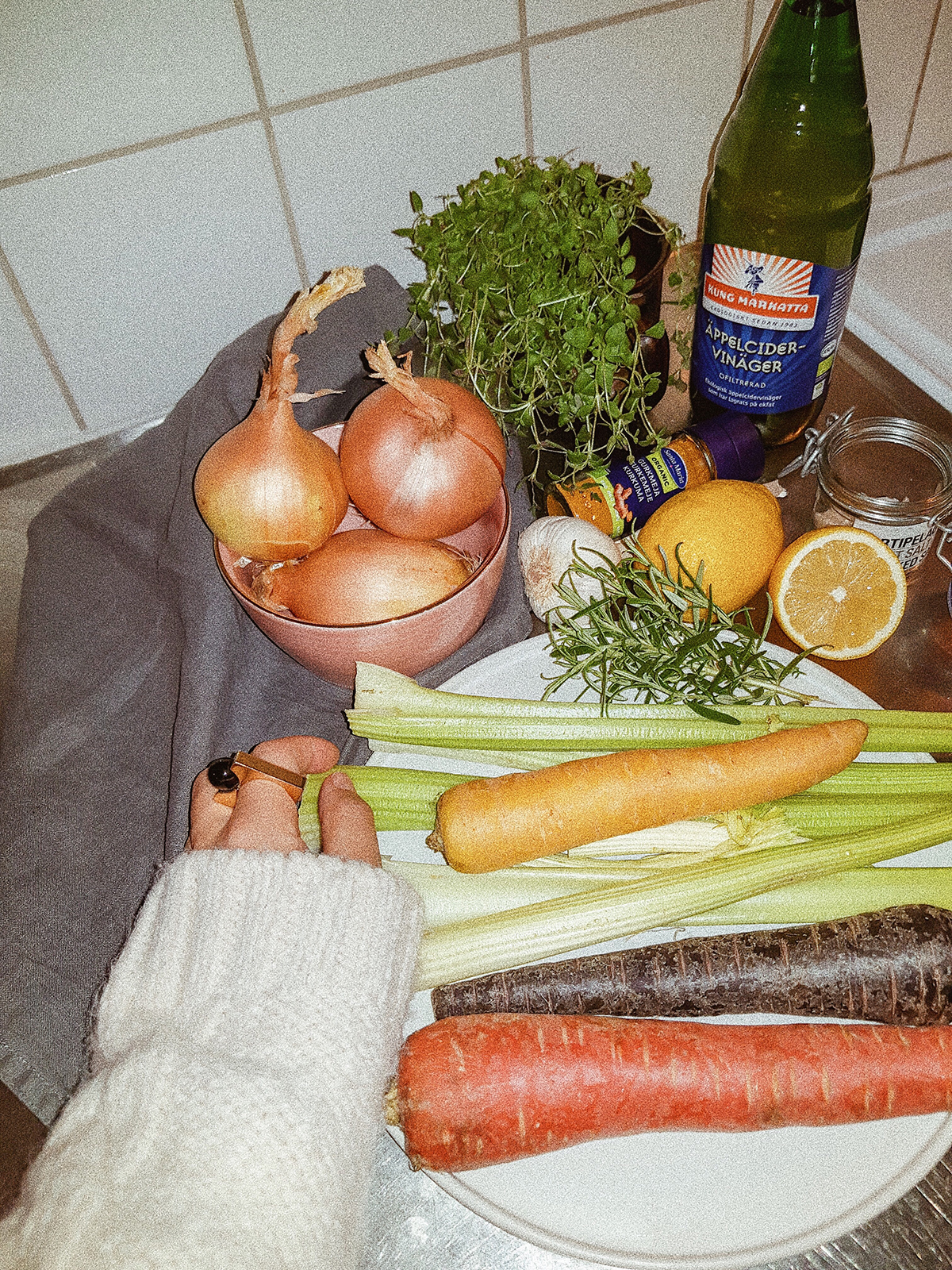 The ingredients should ideally be organic. Actually – scrap that last sentence. If they aren't organic then skip the idea altogether. What happens when you boil the bones & veggies for 8-12 h is that you extract the minerals and the collagen out. If not organic, you risk getting a dosage of the toxins and hormones and god knows what else with it.
In Dubai I always used Kibsons for my veggie delivery (making sure to opt for the organic choices as not everything sold through Kibsons is). The bones – a very unromantic topic but a necessity as the name bone broth would imply – are best sourced from the Organic Supermarket.
For my Swedish followers – if I have any yet? – I live close to Swedens equivalent of Wholefoods, namely Paradiset and all of their food is organic and, if possible, locally sourced.
I have only ever prepared chicken broth as I find the flavor lighter and less gamey. I like drinking mine on an empty stomach (which is perhaps hardcore to some) but with this particular broth, one that tastes mostly of lemon and black pepper, it is actually very soothing. I would probably struggle with the meatier versions, hence only mastering the chicken flavor balance.
Right, here goes:
Get 800 grams to 1 kg of chicken bones. Roast them (after cleaning them well but that goes without saying) in the oven until caramelized. This part is super important for the flavor profile you are curating here. Unroasted bones taste different and not good different. The caramelization of the bones is a game changer and all other recipes you might google will confirm that. (Roasting happens low and slow, so not higher than 180 degrees celsius and for a good hour or so).
When the bones begin to brown toss in 5-6 large organic carrots, 2 halved onions, 7-8 large garlic cloves (yes Sir!), two halved lemons, celery, thyme and rosemary springs. The lemons need to be organic and carefully scrubbed as the peel absorbs whatever pesticides and other uglies it has been sprayed with. Then there is the idea of all the humans fondling them with unwashed hands, yuck.
Everything is roasting, the kitchen smells nice and you are listening to a murder mystery podcast with a gin & tonic in your hand. I am telling you, this broth making malarkey can be a pleasant process.
Once everything has been caramelized, in it goes into a large pan with 5-6 liters or so of mineral water. In Sweden we drink tap water as it's of really good quality but in Dubai I always used Masafi. Allegedly the type with the least sodium in it but don't quote me on it.
Now you roll out your yoga mat; you start reading a book; you catch up on emails or give yourself a manicure – you have a good 7-8 h to kill. The bones need to slowly simmer, with the lid on for all the nutrients to get released, but little liquid to evaporate. The liquid is what we are after at the end of the day.
*If you live in Dubai you would probably be nipping out to a salon for the mani I have just realized. 2 months in Sweden and I snapped right back to reality, would you look at that.
*Don't leave the house with the stove on. I don't want to be legally liable for an increase in domestic fires in the UAE.
Using a large strainer separate the liquid from the solids. Make sure to give the by-now-almost-dissolved lemons an extra squish. Add some high quality apple cider vinegar, more fresh herbs, heaps of sea salt, heaps of black pepper, a tablespoon of turmeric and let it simmer for another hour or so.
From now onwards it is a matter of taste – if bland add more sea salt. Himalayan pink salt is recommended in particular, allegedly good for you. More black pepper. More vinegar. Taste. Simmer. Taste again. Season until happy. At the end you'll be left with a TANGY LEMONY PEPPERY liquid colored by the glorious marigold yellow hued turmeric. Reheat before serving and freeze (in individual containers) for up to 2 weeks!
Personally I don't like microwaves as I don't think they are good for you. I also really like food preparation so microwaves feel like a cheat – heating the broth in a small pot on the stove is dead easy. / X Teresa
If you liked this post, kindly leave a comment below or perhaps share it with a friend? Thank you.