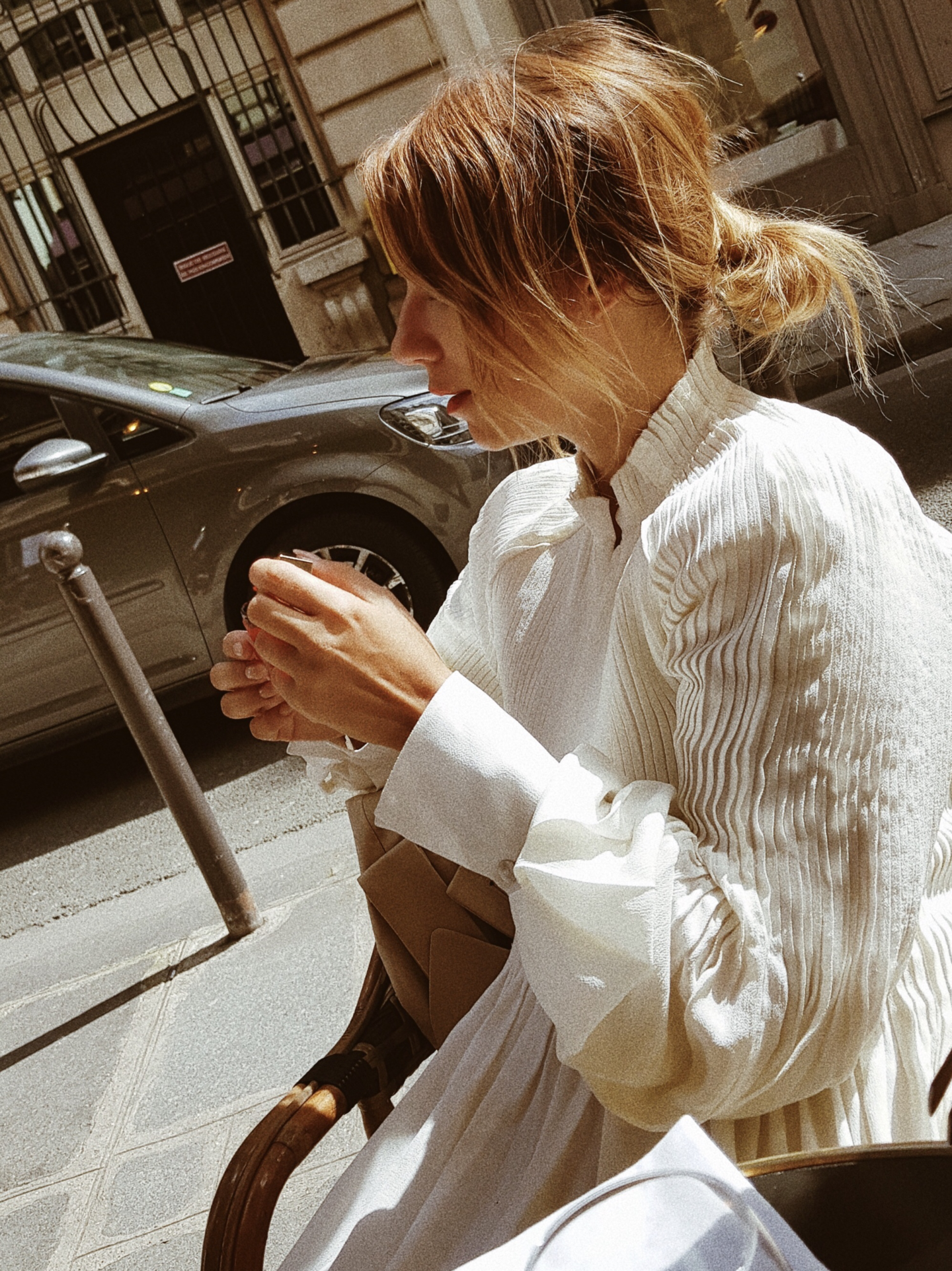 When it comes to red lipsticks I consider myself somewhat of a seasoned connoisseur and whilst I won't go as far as saying that I feel naked without one, I guess the only time you'll see me barelipped is when I am doing sports. The odd yin yoga class with me proudly sporting MACs Russian Red might have occurred but yogis are a zen-ed out forgiving bunch.
I guess because I dress in muted monochromes and happily leave my hair au naturel, a crimson red lip has become my go to tool to effortlessly elevate my looks. I also have a penchant for the Parisian aesthetic and rouge à lèvres is a given part of that desired effortlessly sexy vibe. 
Below I have listed a few solid favorites but my collection of red lipsticks is vast and ever expanding. I estimate that my current collection hosts around 35 plus different shades and formulas but the ones stated below are frequently used and replenished as soon as depleted. I hope that this cull helps and I'd love to hear from you in the comments below if there is anything that I have missed that needs looking into. X
CHANEL feels like a must mention in this particular beauty category, even though I find their formula the least durable and hence low scoring on the old value-for-money chart. Yet there is something about the way they make the inside of your beauty bag all pretty and French.
Because of the semi poor longevity of their full coverage lipsticks I played around with what the brand calls a lip "stylo". It is more of a hydrating tinted lip balm but it's pigmented enough to feel like a sheer daytime-appropriate lipstick. It needs reapplying after each meal but it smells delightful so you'll find the process rather pleasant – think of it as  a good "started red" if you are warming up to the idea of a full on kissy pout.
The shade seen above is number 206 – Histoirie. 
Charlotte Tillbury recently launched a standalone flagship store in Dubai and I was invited to familiarize myself closer with her famous products. Her make up range suits me better than the skincare and the luxe rose gold packaging is irresistible. You may have noticed by now that I find packaging and branding an important criteria when it comes to make up?
Tell Laurais a fresh geranium (orange) red named after British Boheme babe Laura Bailey and I wear it in the evenings, seductively leaving the pretty tube next to an empty glass of champagne for an increased flirt factor.
As I was perusing Sephora isles I chatted away to the store stuff and when I brought up the purpose of my visit, the girls insisted that I try Rihannas Fenty line. The only shade of red in the range is called Uncensored.
The good thing about it is that it stays on for hours – in fact it is one of the top three I have ever tried with regards to the longevity aspect. It also has a neutral red tone that suits most complexions, to me feeling borderline blue-ish but that's because I roam the orange spectrum of red to suit my olive skin. The minor set back would be that is exceptionally runny so you need to be very thorough with the application process. This is not a product you apply on the run or else you'll resemble Keith Ledgers joker – tried and tested and alive to tell the tale.
When Christian Louboutin first launched the beauty range I thought it was a somewhat of a gimmick with a high souvenir value. I was wrong – the lipstick formulas (in particular the matte ones) are superior to many. They also make for amazing gifts – my mum refuses to use hers because of how "festive" she says that it feels. It resides on a mantelpiece next to photos of me (and our cat).
Rouge Louboutin Velvet Matte is a great fit for many, inspired by the colour of the sole naturally. I highly recommend it.
A few classics are mentioned above here – they might not be a novelty to the hardcore beauty aficionados but they feel mandatory to mention. They all lean towards orange so if your colouring is similar to mine they are all a great fit. Bookmark this page when you're next dashing through the duty free beauty isles.
From left and clockwise:
M.A.C Russian Red(now also available as a convenient mini)
Bobbi Brown Atomic Orangein the Luxe Lip Color range
Estee Lauder Vengeful Red(a lipstick I have bought the most of over the years because it ticks all the boxes and does not get nearly enough credit)
Tom Ford Scarlett Leather(also a matte finish and Tom Ford is a very sexy man and no it's not related to lipsticks but still important to mention)
Here we have a product that is the strongest rating one in my books – it gets a solid 9 out of 10 sticky smooches and would be a winning 10 if it wasn't for the not-so-fancy packaging. Sephoras own Cream Lip Stain (I wear Chilli Pepper) does not budge, does not cause dryness and lasts a solid 10 hours sans touch ups. It's really affordable too and I have on many occasions spotted professional make up artist use it in their kits on the photoshoots that I style. I have nothing but good things to say about this product.
In the name of research – as it came through as a question on my social media – I purchased an all vegan lipstick from Pinch Of Colour (in the UAE available via Nisnass).
The vegan aspect is particularily important when it comes to red lip products as the colouring agent in most, called carmine, is derived from crushed bugs. As I am typing it I feel a little queasy in my tummy but as a carnivore I don't have a leather trouser clad leg to stand on. This is a topic for another post so let's wrap this one up first shall we?
(I am not writing the topic off as insignificant – in fact the other way around – it would open the doors to a larger debate, one that I wouldn't do justice in a sentence or two.)
YSL Tatouage Lip Stain comes in many shades of red and is not as long lasting as the name tatouage would maybe insinuate. What won me over was its light formula. It's exceptionally quick drying and smudge free which makes for a reliable formula for a rushed application.
NARS Velvet Lip Glide (I like Mine Shaft) is the only lip product I have ever tried that retains a wet look without being sticky.
*As this goes live I have just purchased a limited edition Isabel Marant &  Maybelline collaboration and received a new lipstick range from Rodial. To be continued!